HUMAN – WILDLIFE CONFLICT
The conservation of African elephants can be very challenging, particularly when they occur in close proximity to human settlements. Their large body size means that they take relatively little notice of fences, whether they are designed to keep elephants in protected areas or out of crop fields.
Elephants are intelligent and long-lived, so they learn how best to raid fields and remember which areas are worth taking a risk to visit. Tensions caused by conflict between humans and elephants are high: both have lost their lives as a result of conflict for resources. Sometimes this takes the form of crop-raiding, but living with elephants can have other socioeconomic costs. Coming across elephants whilst doing your chores or walking to school is potentially dangerous; thus these everyday activities are harder and take longer, keeping students away from school and people from their chores.
In the areas surrounding the Makgadikgadi Pans National Park, elephants are responsible for breaking the fence around the national park. This allows livestock into the park, where they come into contact with other ungulates that may transmit diseases and parasites. Lions and other predators can move into the community areas, depredating cattle and goats.
Human-elephant conflict is a substantial problem in Elephants for Africa's study area, and through our applied research and working with local communities we are working towards human-wildlife coexistence.

Investigating Human-Elephant Conflict in the Boteti Region A Project By James Stevens, University of Bristol.
A community's perception of conflict plays an important role in combating human-wildlife conflict. Mitigation schemes are reliant on whether communities value, and are willing to tolerate wildlife on their doorstep. I will complete questionnaires with members of the community to assess the attitudes of farmers in the region. By determining the level of tolerance and value farmers show towards elephants the potential success of mitigation schemes can be assessed and potential communication with, and education of, local populations may help to change perceptions in the future.
This project aims to increase our understanding of the fundamental behaviour of crop- raiding elephants and inform best farming practices and mitigation techniques, thus helping to alleviate the economic damage local communities suffer from crop-raiding and protecting elephants from persecution.
With the influx of large groups of male elephants attracted by the newly flowing Boteti River coming into close proximity to local communities, there has been increased levels of human-elephant conflict. To tackle this problem it is vital to gain a thorough understanding of the issue to develop and establish effective mitigation strategies.
Little is known about the group sizes and age structure of male elephant social groups. The Makgadikgadi region provides a unique study site to research these demographics because it mainly comprises male elephants. By undertaking the study inside the national park and in areas of human habitation a better understanding of the demographics of crop raiders will be gained.
It is hoped that we are able to identify any patterns to crop-raiding in this region, whether certain communities are more susceptible to crop raiding and, if so, why. Targeting the problem will become much more effective if crop raiding patterns could be established.
The damage as a result of crop-raiding will also be assessed. By assessing the level of crop damage that occurs during a raiding incident, the estimate of damage can be compared against the farmer's and the wildlife officer's. This will enable a more accurate estimate of economic cost of crop raiding to be established in the region.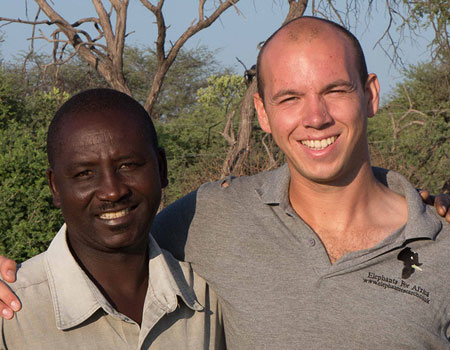 Mitigating Human-Wildlife Conflict by Improving Livestock Health A project by Josephine Walker, PhD student, University of Bristol.
The Boteti River is relied on by local subsistence farmers and their livestock as well as wildlife. This leads to the potential for conflict, and, in particular, the possibility of the transmission of diseases between wildlife and livestock. One type of disease which is often shared between wild and domestic species is intestinal worms, which often leads to poor health and reduced production in livestock.
Josephine has been working with the communities surrounding the Makgadikgadi National Park to train them to recognize the signs of intestinal worm infection in their goats and sheep in order to selectively treat animals. In other parts of the world where farming is more intensive, farmers are encouraged to selectively treat their livestock rather than treat the whole flock owing to the threat of the worms developing resistance to the drugs. Most of the farmers in the Makgadikgadi area had never treated before, so by starting to treat in a sustainable way they will improve livestock productivity and food security, and even decrease the need to have ever larger flocks that can degrade the landscape both for livestock and wildlife.
Using a community-led approach, including semi-structured interviews with farmers, she has learned the local perspective on diseases of livestock, and collected samples from both livestock and wildlife to investigate the prevalent parasites and where transmission between species may occur. Overall, she aims to build on local knowledge to gain an understanding of disease transmission in the area and increase the resilience of the local communities to outbreaks of disease in their livestock.
She has found that resource-poor farmers can implement targeted treatment in goats against parasites effectively. Herd health significantly improved in those herds using the system in terms of both anaemia and body condition compared to herds that didn't treat. Overall, although transmission of parasites is likely between wild and domestic ungulates, targeted treatment strategies are effective and feasible to implement, and localised recommendations regarding seasonality of transmission could be incorporated into treatment regimes to mitigate the impact of wild hosts.
Image provided by Dr Richard Wall.